As the climate around incentives has improved, groups are working their way back toward the links. There are the hardcore incentive golf groups, which have very specific "coursework" and then there are the more casual incentives. Instead of setting up championship rounds for these groups, there are other playing formats and contest ideas that meet objectives from networking to teambuilding, to raising money for charity, to building the client base.
But first, follow these guidelines to structure the event.
Create a logo for the outing and a brand identity. Determine the type of signage you want on the course. At a minimum, feature your company logo and signs honoring your event sponsors, if applicable.
Market your event. In addition to the usual flyers, e-blasts, and house ads invest in promotional products like branded golf balls.
Beverage breaks are a must. Some golf courses have two beverage carts, one on each nine. Others have only one. Ideally, you should have three to four beverage stations throughout the course–preferably where two to three holes may cross. The properly will know the best spots on its golf course for beverage stations; ask your contact for ideas.
Develop a sponsorship package. This will vary according to your group and budget.
Pull together your prizes. Great options include trophy cups, crystal, personalized golf balls or gloves, and golf-ball-shaped chocolates. For very high-level events, offer a one-year membership to a golf club as a prize.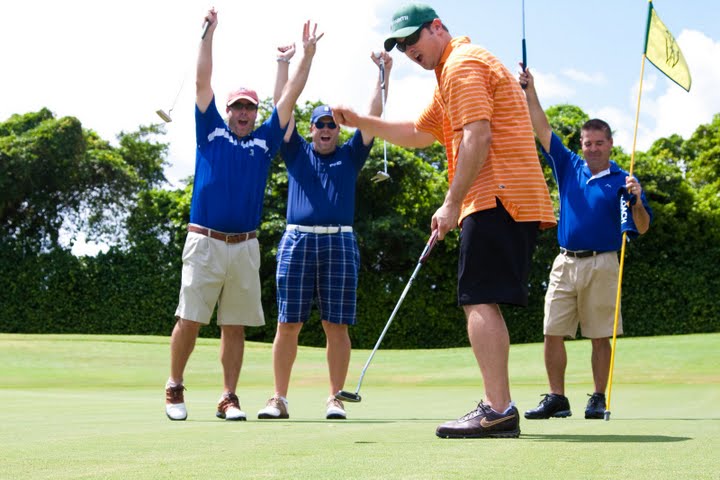 Develop a feedback plan. Create surveys to gauge what incentive participants liked and what they didn't like. Online surveys sent out after the event generally receive the best responses. For paper surveys distributed at lunch or dinner, expect only about a 25-percent response rate.
Plan the post-golf party. After a morning or an afternoon on the course, your group is going to be ready for something to eat. Not only should you serve a meal, but this is the time to honor competition winners.
CHOOSING A FORMAT OF PLAY
The biggest factors in determining the right tournament format are the number of players and the skill levels of those playing.
Scramble. Four-person scramble formats are most popular. In a scramble, each player tees off from the predetermined tee box. Once each player has hit an initial shot, the group decides which ball to hit the next shot. Each player then drops a ball close to that ball. Play continues like this on each shot until the team has finished all 18 holes of golf. Variations include two- and three-person teams.
There's also the alternate-shot tournament, which is for two-person teams. Two players take turns hitting the same ball at alternating holes. This is sometimes called Evens and Odds or Scotch Foursome.
One more option is a best-ball tournament, which allows all team members to play their own balls at each hole. At the hole's completion, the lowest score becomes the team score.
Single putt. Participants try to make a long-shot putt, generally of at least 50 feet. This is the golf equivalent of the half-court basketball shot.
Unconventional putt. This is a great way to give novice golfers a chance to win a contest on the course. Players use hockey sticks or other unexpected equipment, and the player who makes the longest putt wins.
Fewest putts. This is a simple contest; players strive to have the lowest number of putts for the round. If there is a tie, coordinate a tiebreaker to reach a winner.
Shootouts. Either randomly selected players or those who won a tournament can participate in a post-tourney shootout. A popular prize is a big-screen TV.
Shortest drive. Unlike the longest drive, where the golfer attempts to move the ball a great distance from the tee box down the fairway and to the green, the shortest drive measures the shortest distance. A popular variation is the longest putt contest.
Closest to the pin. The objective is to hit the ball as close to a par-three hole as possible. A par three is a hole that pro golfers are expected to finish in three shots, and there are typically four par threes on a golf course. Make sure to have measurement tape near the green in case two shots are very close. A variation is a hole-in-one contest. The objective is simple: Contestants have to make the shot in only one try. Consider hole-in-one insurance if you plan to offer a substantial prize, should someone successfully sink a ball in one stroke.