I stopped one morning at Richie's Launch and Guide Service, a low-key fishing operation on the west side of the lake, just ashore from the north end of the crack dividing the ice in St. Albin's Bay and just a short drive from the giant walleyes totem of angling success-that beckons to anglers from the waterfront park in Garrison, Minnesota. Across the highway from Richie's, a driveway leads down onto the ice, where a sign lists road-use fees. It had never occurred to me that a road over the ice could be proprietarily held, but so it is, largely because the crew at Richie's works very hard to keep it clear of snow. At Richie's, you can buy "King Tutt's Mille Lacs Walleye Whiffer Lake Map," which Brian Crenna, who was on duty that morning, calls "the best map that was ever .made." Or you can use a photocopied map to find your way. This map says, in bold letters, "Please Do Not Drill Holes in the Roads."
During the summer, a lake fisherman usually tries to position his boat near what is called "structure," which, on Mille Lacs, means one of several dozen named mud flats rising some 6 to 10 feet above the otherwise undifferentiated floor of the lake. (Mille Lacs Lake is about 40 feet deep in its deepest spots.) Fish gravitate to structure. I asked Brian Crenna how he knew where to place the ice houses once the lake froze over. I had naively imagined him eyeballing it, using a surveyor's chain or a compass and the odometer in a pickup truck. "GPS," Crenna said, referring to the handheld satellite navigation devices that have proliferated over the past couple of years. Their appeal to anglers is obvious: they allow you to orient yourself precisely even on a featureless body of water. Because it's one of the most popular fishing lakes in Minnesota-and because there's nothing a walleye angler likes so much as more electronic gear-Mille Lacs Lake is one of the better-charted places on the face of the earth.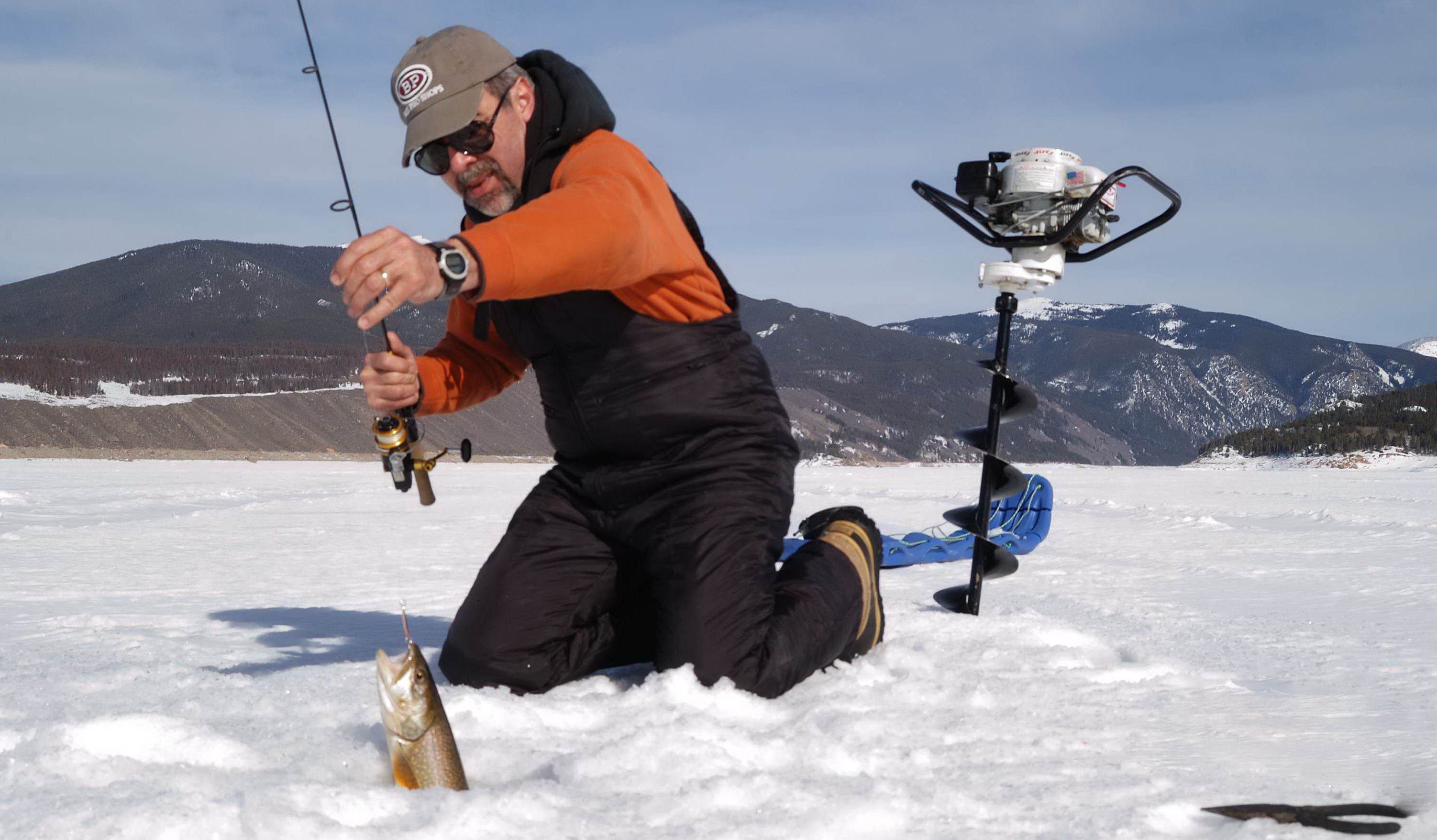 The terrestrial coordinates for Seguchie Flat, a hot perch-catching area five miles out from Richie's, are 46 degrees 15.36 minutes north latitude, 93 degrees 43.30 minutes west longitude. To have your fish house towed out to Seguchie Flat and to store it in Richie's house-yard during the off-season, where it doubles as a tax-free summer cabin, costs $375 (which includes the road fee) if your shanty is smaller than 10 by 16. If you'd rather rent an ice house, it will cost you $180 a weekend for a four-hole house, $260 for a six-holer. Nearly 40 resorts, bait shops, and marinas offer some sort of ice-fishing service on Mille Lacs Lake: anything from hole drilling to road and ice-house maintenance.
When the January snowstorm hit, it brought business to a standstill. The resort owners plowed night and day, but they couldn't get their customers onto the ice. "We canceled all our reservations for the weekend," said Brian Crenna. Down the road, at Twin Pines Resort, more than a hundred people waiting to get to their fish houses gathered in the 12-seat bar the Friday night after the storm, while Linda Eno, who owns Twin Pines with her husband, Bill, poured drinks and talked to the plow crews working far out in the icy gloom across Highway 169-by two-way radio. And all of this for a sport in which the very best advice you can get-besides "stay warm" is the headline printed on January 21, 1996, in the sports section of the Brainerd Daily Dispatch: "Try Swedish Pimple, Weasel with Fathead."
There's a persistent rumor around Mille Lacs about the fish house with a hot tub. "Yeah, I hear there's one on the other side of the lake," fishermen say, no matter what side of the lake they're on.
That rumor is a little like the one about anglers who actually eat eelpout. An eelpout also called a burbot (and having the lovely Latin name Lota lota), is a deep-dwelling relative of the cod that looks like a blind alley in evolutionary design. The eelpout is roughly tubular in shape, with a sullen, disappointed expression, an elongated, eel-like body, and long dorsal and ventral fins. It is most active, not surprisingly, at night. To catch an eelpout from an open boat in the middle of summer with the stars shining overhead must be shocking enough. But to haul an eelpout through a hole in the ice onto the shag carpet of your fish house in the dead of winter must be like beaching some hideous desire. "They're prehistoric," said a man named Terry, who was helping out at a local bait shop. "Been around for millions of years. Ugly. They call it poor man's lobster.' I've never had it. I won't touch 'em."
In fact, the eelpout rumor is true. In Joe Fellegy's Mille Lacs Fishing Digest, a seasonal angler's guide, there appears an endorsement of eelpout, if not an actual recipe: "For frying, deep frying, broiling, or boiling, we prefer the forward portion of the pout, but we have no biases against the tail either!" And, as it happens, the hot-tub rumor is true too. Off the south shore of Mille Lacs Lake, not far from the town of Onamia, there's a 20-hole party house, run by Izaty's Golf & Yacht Club, which will provide a hot tub on request. After hearing the hot-tub rumor for the sixth or seventh time, I decided that there's something oddly unimaginative in it, as there is in the persistent rumors about fish houses with large-screen TVs and digital satellite dishes. To predict that the comforts of life on the ice will increasingly resemble the comforts of life in suburbia is to predict the merely inevitable.
Of course, many anglers practice a less pampered version of the sport. On the Lakeside Resort ice-road, about two miles out, I saw a car pulled over beside a snowbank left by a plow. Three men had drilled a hole in the road behind their car and erected a tip-up, a tiny fishing rod with a spring-loaded flag that pops up when a fish takes the bait. Then, to judge by the lolling of their heads, they had climbed back in the car and asphyxiated themselves. They looked like dead men fishing in a puddle. On the ice near Barnacle Bill's, the northernmost resort on Mille Lacs, I saw several fishermen sitting in individual canvas ice houses that retracted like the clamshell top on an old convertible. I visited two anglers who were fishing through the floor of an ancient yellow house trailer with a dropped suspension. There was a flooded fish house flying Old Glory and the POW/MIA flag, with a cellular phone antenna mounted over the door, while in the distance a bald eagle skimmed the ice.
And everywhere there was a profusion of home-built shacks, each one a rectangular fantasy of plywood and chipboard and scrap paneling. Some neighborhoods were so entirely jerry-built that they looked like a convention of outhouses or a Hooverville from the Great Depression. But that's the appeal of a fish house. There's a peculiarly American pleasure to be had from cobbling together a dwelling out of finding wood, making a habitation of almost nothing. (Consider Thoreau, who built his house for $28 and change.) It's a truly national expertise, a remnant of our history as settlers, a virtuosity now preserved largely on frozen lakes.
On the ice out from Richie's, somewhere over the edge of Silver Flat (about 46 degrees 16.57 minutes north longitude by 93 degrees 45.83 minutes west latitude), I stopped one morning at an ice house owned by Jim Mackenthun, a fair-haired young farmer from Glencoe, Minnesota. As I pulled up, a tullibee flew out the door and landed in the snow. The tullibee (Coregonus artedi) is also known as the lake whitefish. Unlike the eelpout, the tullibee actually looks like a fish. There is no limit on tullibee at Mille Lacs Lake. Some people smoke tullibee and eat them. Others smoke them and throw them away. Some people fill five-gallon plastic buckets with tullibee-ice fishing is a sport that would not exist without five-gallon plastic buckets-and throw them away. There are at least four classes of fish in Mille Lacs Lake: fish everyone eats, like walleye and perch; fish some people eat, like tullibee; fish no one admits eating, like eelpout; and fish you accuse others of eating, like carp. "Carp's considered a delicacy in Iowa and Nebraska," one Minnesotan told me.