Some studies indicate that outdoor activities at school create a secure environment for adolescent growth when preventing pupils as well as students from having bad behaviors and habits such as drinking and smoking. So, if you are looking for harmless and fun activities, then you could take into account archery for your kids. Archery also has many benefits that you might be amazed about.
#1 – The safest and greatest sports for kids
Everyone knows that playing sports also include some potential accidents. As a parent, you absolutely worry about safety factors while allowing archery for kids.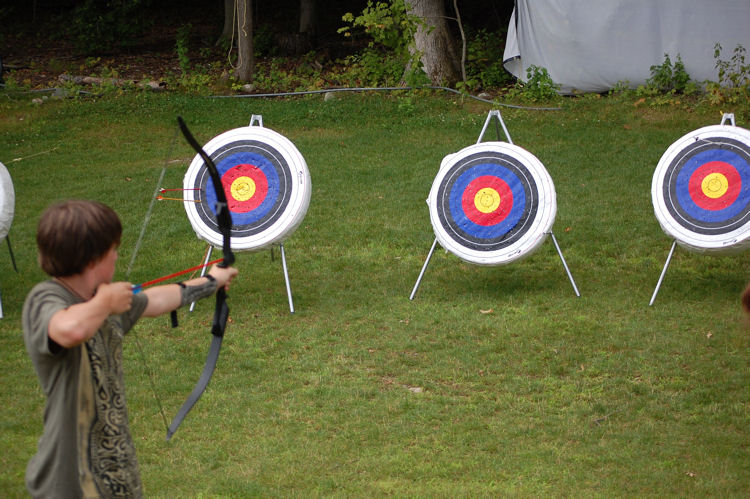 According to the Archery Trade Association, archery is more secure than other school-offered ball sports, except bowling and table tennis. Do not forget to follow some safety rules and tips for your children as soon as possible.
#2 – Suitable kind of sport outdoors and indoors
Archery is a kind of sport that to be suited both outdoor and indoor settings. Whether your kids want to play in the rain or hot condition, many audiences are willing to follow.
On the one hand, there are various different types of archery such as target archery, field archery, 3D archery, indoors archery, etc.
Target archery: this always is played in Olympic and Paralympic Games.
 Field archery: it is relished in wooded course outdoor settings.
3D archery: it often is played for shooting animal targets to get their foam.
Indoors archery: it is played in four seasons and anyone can try to play it.
Para-archery is a kind of archery game for disabilities. Para-archers ought to shoot to their target from their wheelchair or a stool. Some use their teeth or feet to make their bow.
#3 – Scholarship program included
Like any sport, your kids also have an opportunity to gain a scholarship program in a university or college. Many organizations are willing to make scholarships for honor students in the sports industry.
National Championship gave out $77,000 in scholarships for nearly 11,000 student-archers in the 2014 NASP – National Archery in the School Program. Furthermore, the National Field Archery Association and the Easton Foundations also gave out several scholarship programs for students.
#4 – Enhanced behavior and habit
According to an archery coordinator at Cullman Parks and Recreation in Alabama, students might improve their behavior and habit in the classroom from the outside rules.
When students recognize that the only way to shoot in the right targets is following the rules, they have to obey the rules. Then, it will help them to create good habit of doing the proper rules at any time. It is like a magic bullet!
#5 – Teamwork spirit boosted
When practicing and playing with a team, your kids will know how to behave with other students in the classroom. If not, they cannot practice and play quite well.
Each archer has to respect and follow the play rules as well as other players or range organizers. Even if archers have a solo shot or partners, he or she will need to communicate with others to understand goals and determination.
#6 – Self-discipline improved
To shoot to a proper target, archers need to follow the rules, know some techniques and practice it on a regular basis to bow.
The youngest archers often decrease their speed and focusing on one step at a time, they will have more success when letting arrows in the middle of the goal.
When players make mistakes, they are taught that the solution is analyzing their steps and improving one thing at a time once again. This is a tremendous method for achieving success on the archery field, classroom and each stage of our lives. Therefore, if archers do not improve their self-discipline, they will not gain their targets.
#7 – Revamped physical health

In all archery outdoor settings, archers always absorb vitamin D from the sunlight for bone health.
On the flip side, archers also ought to build core, chest, back, and shoulder muscles to have many movements for playing this sport.
Heart health, muscle groups, and leg strength also have been established and improved as archers have to walk and shoot for the accurate targets all the time.
#8 – Increased confidence and self-awareness
Whether your main targets are improving your health, sociability or staying focused, archery totally can support you build more confidence.
Fortunately, confidence is a factor that you are able to train on your mind and create it on your internal energy. So, increase your confidence by trying many targets in the archery field.
It is important to help your children to improve their physical health, but mental health is also vital for their entire development. Staying focused on books at school will be attained more benefits when students need to attend some extracurricular activities. By doing that, their performance will be boosted and meet more targets for the upcoming time.